We enjoy lessons online!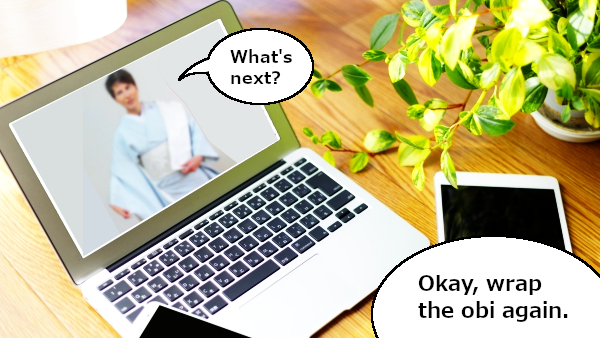 MAIKICHIKIMONO Online Lesson received wonderful feedbacks!
Would you try our lesson? We customize lessons for you.
Let's join us!
We enjoy lessons online!
♥Aria S. from U.S.A.
I enjoyed my yukata lesson with Maikichi. She is a great teacher and very patient with me. She showed me tips and tricks of how to dress yukata that I would have never know from trying to learn it myself. What I love the most is the feedback I receive after the lesson, which really helps pinpoint what I can improve upon. Strongly encourage taking her lessons to take your kimono kitsuke to the next step!
---
♥Yoshiko M. from U.K.

I am a Japanese living in England. I just asked Maikichi about my problems by e-mail in advance, they were almost completely resolved. In the actual lesson, I had to leave the room because of what I had to do during the lesson, but I was able to calmly think about the problem by her feedback later. It was a good lesson because it is difficult to learn how to adjust obi on YouTube!
---
♥Kayoko H. from U.S.A.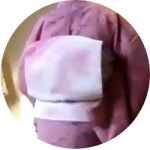 I live in the United States. I was searching around the internet to find out how to put on kimono in English to practice wearing with American friends. I finally found MAIKICHIKIMONO. It was a nice encounter. Maikichi's site explains not only in Japanese but also in English carefully and accurately with photos and videos. It was also very useful for dressing up American friends.
During a 90-minute lesson, Maikichi was teaching me very carefully how to show the pattern of the obi in front and otaiko, and bring an obi pad to the center of the back. My habit is that I can't tie the obi pad string firmly. It was always getting loose. Finally I was able to overcome! Maikichi pointed out properly even on the screen. At the end, I was very happy with beautiful otaikomusubi!
It was my first online lesson, and I feel that Maikichi's abundant experience makes it possible. I am looking forward to the next lesson!
---
♥Charlotte S. from U.S.A.
I'm an American learning Japanese tea ceremony, sado.
When I practice it, I wear kimono. There is one problem when wearing it. My nagajuban is okay but folding the triangle of fabric inside the kimono and getting the collars matching up well is hard for me. I would like to work on getting the collar of the kimono and nagajuban adjusted correctly.
After the trial lesson …I've had a chance to watch the whole video Maikichi recorded. I think it went very well. It was all very understandable. Clear instructions. Good demonstration. It seemed to me like it's ready to launch to the wider public. Let me know other things about kitsuke, and I'll stay a big fan!
---
♥Kasumi M. from TOKYO
Even if I watch how to tie obi on YouTube, I can not really understand it. In the middle of tying I can't follow the steps. I say "Where was I?". I finally give up after struggling with obi, but the instructor gives me some hints during the online lessons, so I could reach the goal!
This time, I wanted to learn a tsunodashi knot. She taught me not only how to tie the obi, but also how to wear it neatly.
In addition, I was able to review the obi knot I learned right after logging out, which helped retain my memory. I could save my time. This is an advantage only for online lessons. Thank you very much!
---
Lesson examples
Here are obimusubi recent done in our lesson.
---
---