Handmade Meisen kimono goods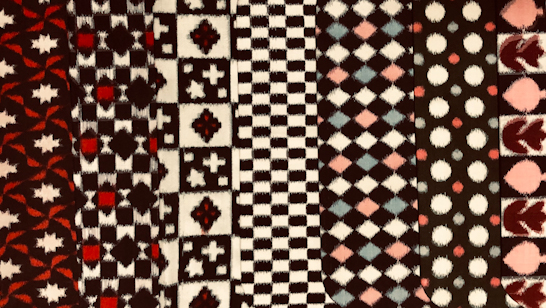 MAIKICHIKIMONO Handmade Project has started!
Using the antique kimono fabric that we want to revive again with the theme of Chic and lovely, we make handmade kimono accessories.
Most of them will be one-of-a-kind, so we will carefully hand-finish each one and deliver it with all our heart, hoping that it will be a wonderful once-in-a-lifetime meeting for you.
Please enjoy the unique taste of handmade products.
A set of kitsuke komono
Obi-ita, obimakura, karihimo, and azuma bag are made of cute and pop Meisen. Antique red silk (momi) is used for the lining of obi-ita and obimakura. These items are required to wear otaiko musubi. Please keep them in this azuma bag.
What is Meisen?
Meisen, the so-called antique kimono, is a plain weave silk fabric that was extremely popular from the Taisho era to the early Showa era as fashionable everyday wear. Its unique colors and bold patterns still fascinate many people today. The characteristic of weaving is the technique called kasuri, in which the boundaries are blurred by intentionally shifting the colors of the warp and weft threads.
Momi is the lining used for kimono in the past.
Meisen pochette
The main body has a three-layer structure with an inner pocket for cards and small items. The pochette is thin without a gusset like a sacoche style, but you can put things in it unexpectedly. The maximum thickness becomes about 7 cm. Comes with a detachable silk "sanbuhimo obijime" shoulder strap, which is limited to this series. You can remove the strap and use the pochette as a pouch.
Did you find your favorites?
You can get more information and purchase those items on minne from next month.
---