Online kimono lesson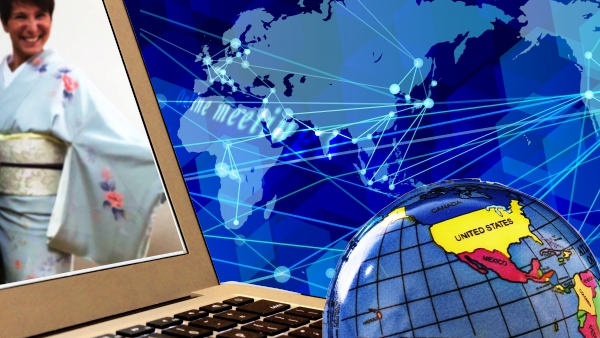 Would you like to put on kimono?
This is a wearing lesson that can be completed online only. You can customize your content of the lesson to suit your purpose. We support anyone who is interested in kimono.
Reasons for the choice of Online Lesson
Why do people choose MAIKICHIKIMONO online kimono lessons?
There are many reasons.
I'd love to wear kimono and learn how to put it on, but I live in a distant place.
I can't understand how to put on kimono even though I watch videos repeatedly. I need some advice in English.
There are no neighbors who teach me how to put on kimono.
I'd like to take lessons in English and teach it to my friends.
I want to study Japanese culture and language through wearing kimono.
Our lessons
We recommend beginners to take a 60-minute lesson about 12 times to master kimono and ichijudaiko, a single layer otaiko knot with Nagoya obi.
Also we recommend to take a 60-minute lessons about 4 times to master yukata and shidare zakura knot with half-width obi.
You choose either one, plus a 60-munut lecture of kimono basic knowledge.
*There are individual differences in learning time. 
We hope you enjoy wearing kimono.
We enjoy lessons online!
MAIKICHIKIMONO Online Lesson received wonderful feedbacks!
Yoshiko M. from U.K. I am a Japanese living in England. I just asked Maikichi about my problems by e-mail in advance, they were almost completely resolved. In the actual lesson, I had to leave a room because of…Read more…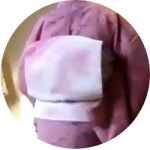 Kayoko H. from U.S.A. I was searching around the internet to find out how to put on kimono in English to practice wearing with American friends. I finally found  MAIKICHIKIMONO. It was a nice encounter. The site…Read more…
Charlotte S. from U.S.A. : I'm an American learning Japanese tea ceremony. When I practice, I wear kimono. There is one problem when wearing it.  My nagajuban is okay but folding the triangle of fabric inside the kimono and…Read more…
Lesson flow
1. Booking a lesson : Fill in the necessary information and contents you prefer to do in your lessons in the contact form. Then submit.
↓
2. Our auto reply and conformation email : You receive our auto reply. Soon after you are going to receive our 2nd conformation email after we confirmed your contents.
↓
3. Billing email and payment : After we confirmed and agreed to the lesson contents, a billing email is sent to you. When you receive it, please pay by the due date.
↓
4. Invitation email : After we confirm your payment, we send you an invitation email for your lesson on zoom.
↓
5. Reminder email : We send you a reminder email on the day before your lesson. Please prepare for the lesson.
↓
6. First lesson day : Please wait in a waiting room before the lesson begins. After the host approval, you can join the lesson. The host locks the room and starts the lesson.
*Please keep the emails until the lesson ends.
What to prepare
Please prepare a set of kimono, obi and accessories by yourself.
Please refer to…
If you have any questions about what to prepare, please feel free to contact us.
Lesson and fee
Free trial lesson
We recommend for the first comers to take a free trial lesson.
Lesson time : Private free trial lesson for 45 minutes
Lesson fee : 0JPY
*First time only, no recording.
Regular lesson
Lesson time : Private lesson for 90 minutes
Lesson fee : 3,000 JPY
Recording(Option) + Feedback(PDF) fee : 500 JPY
PayPal payment only.
Now, Stay Home Campaign launched!

We offer a 60-minute lesson including recording and feedback for 1,500JPY.
About recording service
We upload your recorded data on our Google Drive within a few days after the lesson. Then you can review many times.
*By applying you agree to our privacy policy. Please use the recordings and images only for personal use. Unauthorized load and commercial use are strictly prohibited.
About expiring your data
Please download your data within 4 weeks after the upload. Your data is going to be deleted after the storage period expires. We send a reminder mail to you before that.
Cancellation / Refund / Reschedule
If you want to cancel after applying for a lesson and after payment, please immediately contact us.
In addition, in case of cancellation after payment, a cancellation fee will be charged based on the following "Cancellation Policy for MAIKICHIKIMONO" (below).
Before payment
No cancellation fee will be incurred.
After payment
If you cancel 2 days before the lesson, you will be charged 500 JPY.
Cancellation the day before the lesson will be charged 50%.
Cancellation on the day of your lesson will be charged 100%.
No cancellation fee will be charged if you change the lesson date to another day by the day of reservation.
You can receive a refund. That is the amount after deducting the cancellation fee.
Please contact us if you have any questions.
How to Zoom
Online lessons are conducted via the Zoom meeting system, which does not require account registration. Please visit the website below before starting your lessons. You get more information and how to zoom.
Zoom Help Center Getting Started
Our invitation mail like the following is going to be sent from MAIKICHIKIMONO including  URL, ID and PW.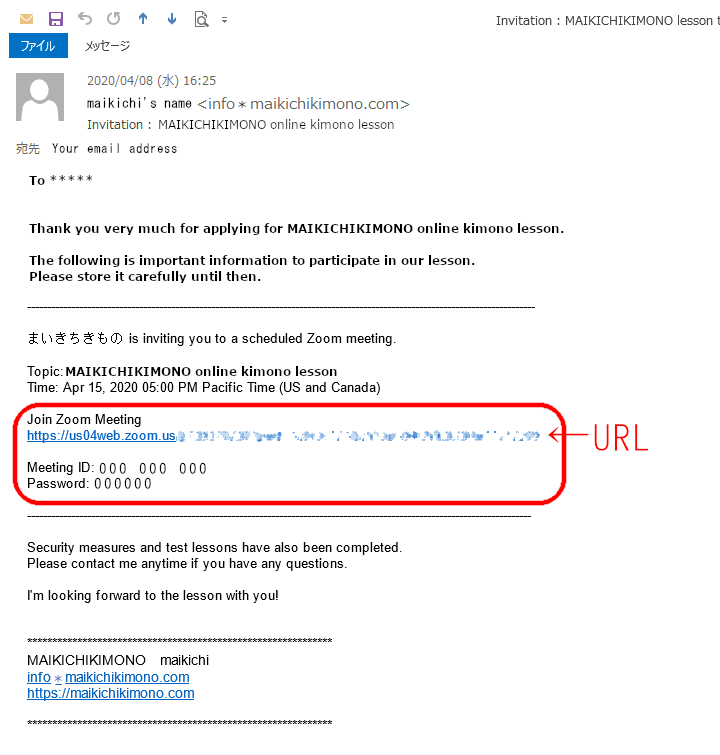 You click the URL and start! Maikichi, an instructor is looking forward to seeing you.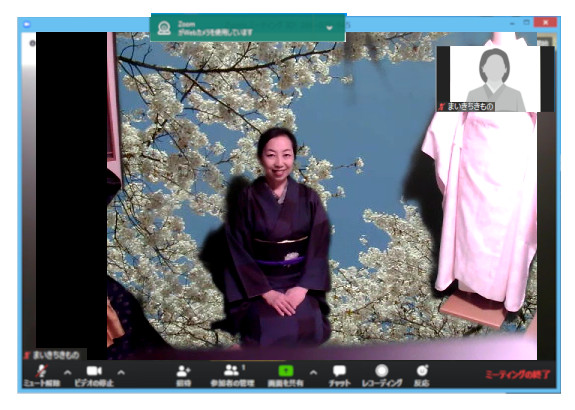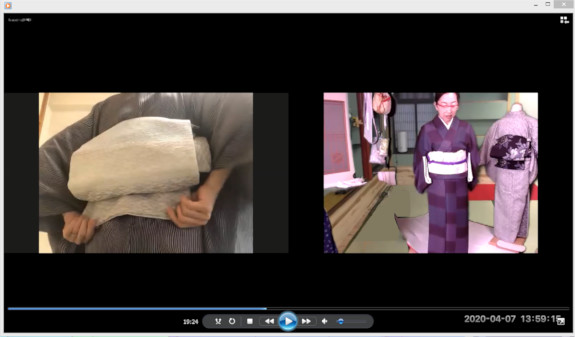 Maikichi shares your recording data after the lesson, so you can review it. (* Recording is optional.)
Current lesson date and time
Weekdays from 8 am to 5 pm (Japan time) or ask us.
Let me know your preferred date and start time from our contact form.
Check the time difference
Please book a lesson after confirming the time difference with Japan.
For example …
From 9:00 / 10:00 am on Wednesday, May 19th, etc. (Japan time)
= From 5:00 pm on Tuesday, May 18th (California time)
Okay, it's about time to book a free trial lesson!
---