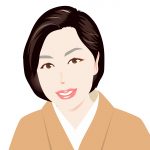 Hello, I'm Maikichi, a webmaster.
Thank you for visiting my blog!
Kimono is a part of my life and cheer-me-up clothing for me.
I started this blog because I wanted to introduce Japanese culture and kimono inside and outside.
I would be happy if my own knowledge and experience could be useful for your kimono life.
Occupation: Online kimono instructor, Kimono dresser for people in a wheelchair, Japanese culture experience instructor (kimono, tea ceremony, origami), national tour guide
Qualifications: Licensed Kimono Instructor and Dresser, National Government licensed Guide interpreter, Certified Domestic Travel Services Manager, Elementary School Teaching License, Licensed Origami Instructor
Work experience: Fancy accessory design, graphic design, web design, Instructor of Kimono School
Media cooperation: 2016 Monthly "Driver" November issue "Bunmu Ryodou Kuruma de Activity" Kimono and Tea Ceremony Experience
Favorite animal: Ferrets
This blog uses the WordPress theme Twentyfourteen. Some images use free materials such as photo AC and illustration AC. Other images are original. Belonging to MAIKICHIKIMONO, all rights reserved.
*Please use the form below to submit a job request, opinion, impression, blog request, or inquiry.