What to check when you buy kimono online
Nowadays you can buy kimono and accessories online without coming to Japan.
It's so easy to find your favorite one. You may want to get it immediately, but please wait a moment. Please look closer the detail of that. There are many things you should check before buying.
When I didn't do it, I received what I didn't expect.
This time I'll tell you how to buy kimono and obi online successfully.
Here are check points you should know before buying.
SIZE, CONDITION, COLOR, PRICE and SHIPPING.
The different types of kimono and obi
First of all, know the different types of kimono and obi.
Kimono
Yukata : A light cotton kimono worn on hot days, especially for summer events.
Komon : The most popular kimono for everyday wear. Perfect for a little outing. Patterns are entirely dyed.
Edo komon : Those without a family crest are below semi-formal wear, and those with a family crest are worn from semi-formal to formal wear. Originally Edo komon is worn by samurai.
Iiromuji : One color and woven patterns. Those without a family crest are below semi-formal wear, and those with a family crest are worn from semi-formal to formal wear.
Tsukesage :  All patterns are facing upper direction, simpler than homongi. Semi-formal wear.
Homongi : The most popular semi-formal or formal kimono whose pattern is like a beautiful picture called eba moyou. Colorful kimono accessories can be used.
Iro-tomesode : A formal kimono having patterns around the lower body called suso-moyo and dyed other than black.
Kuro-tomesode : The most formal kimono for married women having suso-moyou or patterns around the lower body on the black background.
Furisode : The most formal kimono for unmarried women with long sleeves.
Nishakusode+hakama : A old-fashioned school girl style. Nowadays it is worn on graduation ceremonies.
Uchikake : A costume for brides worn on weddings.
Haori : Haori for women is worn over kimono as a cardigan or light jacket.
Nagajuban : An undergarment of kimono. You should buy it as the same size as kimono, especially the length of sleeves and shoulders must be the same, because the undergarment's sleeves will pop out. If you can't find the same, you should adjust it.
Obi
Hanhaba obi : A half-width obi. The most simple obi for casual kimono and yukata. Second-hand goods are not recommended.
Nagoya obi : The most popular obi for everyday kimono. It is sewn to put on easily. There are two types, such as hassun (without interlining) and kyusun (with interlining).
Kyofukuro obi : It is similar to fukuro obi but shorter than that. It is worn as casual wear.
Fukuro obi : A simple pattern called share bukuro can be worn casually. Those with decorative and gorgeous patterns of gold and silver are mainly used for semi-formal and formal kimono on special occasions. Some of them are available as reversible obi.
Maru obi : This obi is very formal and used for brides and maiko nowadays. It is extremely heavy and thick because of rich decorations and a wide width.
Old or new / history
Which do you buy, old or new ?
Antiques :  They were made before 1945.
Recycled ones : They were made after 1945.
Old vintages : old and high quality.
New ones : ready-made or order-made,
New ones made of old stocks : They are called "shinko-hin".
Tanmono / rolls of fabric : The width and length of old ones are relatively short. Some of recent new ones are wider.
B-tan / Rolls of fabrics with small scratches, stains, and so on, but can be sewn by hiding those damages.
Sizes
Kimono can be fitted to the body to some extent by the art of kitsuke. However you should know your own size, because it is easy to put it on without too much extra fabric.
The measurements of your height, the length of the shoulder and arm called yuki, and hips are must. Please check whether the measurements of kimono you want to buy are suitable for you.
Please refer to Kimono structure and how to measure your size.
Colors
Checking colors is very important so that you don't get disappointed with the colors that aren't what you expected.
Check if the color is as expected. Colors vary depending on web browsers.
If possible, check the color on some devices such as desktops, mobiles and tablets.
Condition
How is the condition? It can be worn?
Damages
Please check carefully. The damages are often found in kimono, obi, dou-ura and hakkake (lining).
The stores noticing the damages of the items in detail can be trusted.
Smell!!!
Mold
Stain
Yellowing
Discoloration
Fray
Holes
Scratches
If you're not sure if you can wear it, ask the store. When you are satisfied with the explanation, buy it.
Prices
How do shops set those prices?
Condition to sell at high prices.
Size in demand
Famous kimono artists
No damage
High quality
Beautiful patterns
Unused
Custom-made expenses
When you order kimono, you usually have an extra payment other than the fabric of kimono itself.
Sewing fee
Yunoshi or cleaning the fabric and straitening the fabric grains
Dou-ura, hakkake liners
Waterproof (option)
Sometimes the price includes all, but carefully check them.
Payment and shipping
It is strongly recommended that you purchase products at an online shop where you can pay and ship overseas.
Even if the store doesn't ship overseas, the store may respond if you show your willingness to purchase. Anyway, you should contact the store.
These shops are excellent. They are good for the first step of your kimono life.
♥ New yukata, casual kimono, formal kimono, kimono coats, and kimono accessories…This shop deal in all items of kimono.
♥ If you like antique kimono, I highly recommend this shop. Also you can buy original antique-like kimono and obi.
♥ Old and new items, kimono accessories. I sometimes buy recycled kimono and obi. I recommend bi-hin or recycled kimono without damages, and michakuyou or unused kimono. They are clean.
Remember the important points.
 size
color
condition
price
For the first step, if you can, you buy a set of kimono (kimono, obi, and accessories). When you go out, you don't have to worry about coordination. All you have to do is wear a set of kimono. It is easy for beginners.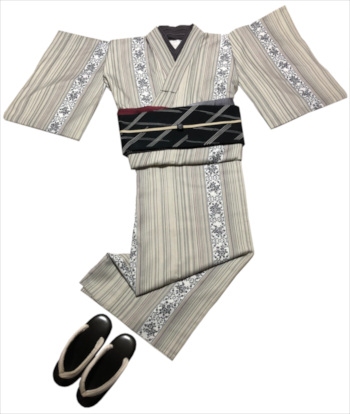 I hope you get a nice kimono online!
---