Padding for wearing kimono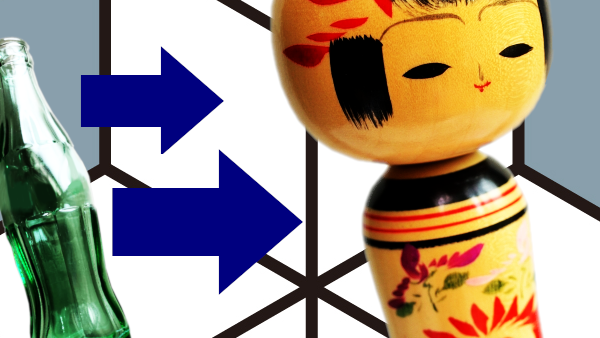 What is hosei?
Hosei means smoothing your bumpy body line.
Kimono looks like one sheet of cloth because all rectangle pieces are stitched straight.
There are no buttons and zippers, so you use a few strings and sashes to put it on.
The bumpy body line is not suitable for kimono. That's why you need hosei.
In contrast the western undergarments, such as corsets and girdles make curvy lines.
What is hosei?
Usually towels and ready-made pads for kimono are used. Fill the dents and flatten the bumps. By doing so, your body line becomes straight, and you can put on kimono smoothly and dress up beautifully.
You should use some padding according to your figure, if necessary.
There are other good things about padding. The padding as a cushion prevents the string from digging into your body and absorbs your perspiration well.
Too much padding is no good because extra fabric of kimono can be padding too. You need to reduce padding by the amount of extra fabric.
In my case, I use some padding when wearing a formal kimono, but I don't use any when wearing a daily kimono.
I recommend you to use some padding if necessary.
Do I need to adjust my body lines?
Are there any dents and bumps on your body?
Here are examples.
Pink parts are dents where should be added pads. Blue parts are bumps where should be flattened.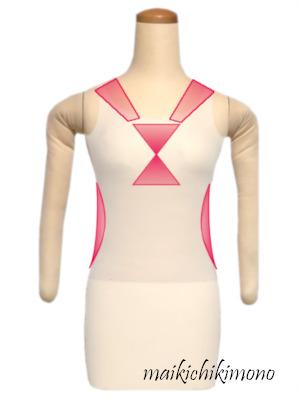 Also pink parts are dents where should be added pads.
This is an ideal body line to wear kimono beautifully!
At first, adjust with underwear
Wasou brassiere is helpful to smooth your bust line. Susoyoke plays a role of padding and a girdle.
Refer to : Underwear for kimono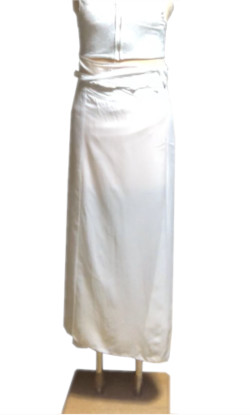 This dress form is wearing a wasou bra and susoyoke or a wrapped petticoat.
How to fold towels for padding
When wearing yukata and kimono, some people need padding at least around the waist or the dent on the back.
I introduce you how to apply padding using towels.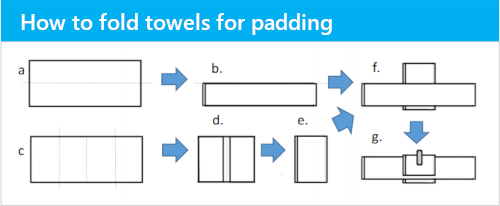 a. Place a towel with the long sides up and down.
b. Fold into half.
c. Place another towel with the long sides up and down.
d. Fold both ends toward the center, leaving a little space in the middle.
e. Fold it into half.
f. Put b. on the lower part of e.
g. Fold down the top part of the e. Pinch the folded wa part with a clip.
How to put towels on  your body as padding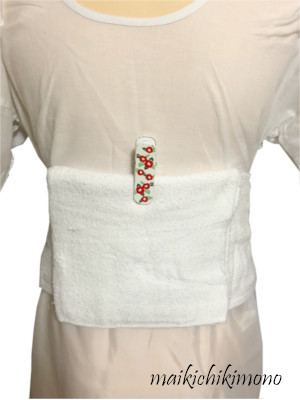 1. Put the towels with a clip on your back and…
2. Wrap the towel around the waist, pinch the center of himo and the towel together.
3. Cross himo at the back.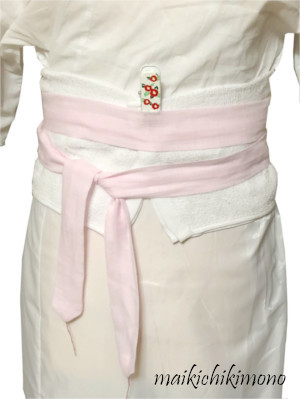 4. Make two loops at the front.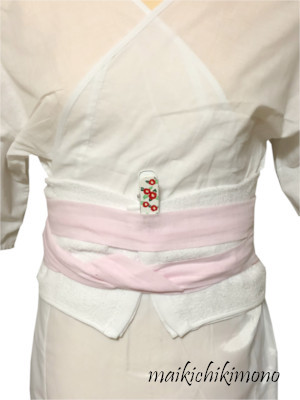 5. Cross the ends and tuck them in.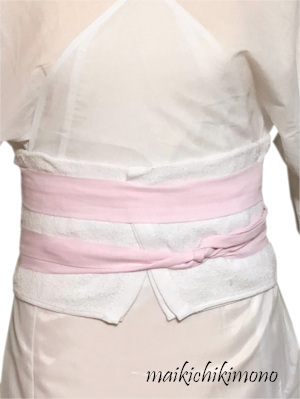 6. Take the clip away.
7. This is the view of the left side.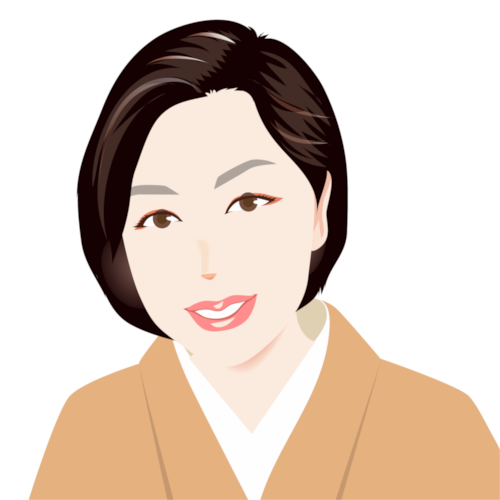 maikichi
Do not squeeze the string. Tie it so that it touches your body gently. Use thin white towels.
Padding for the décolletage part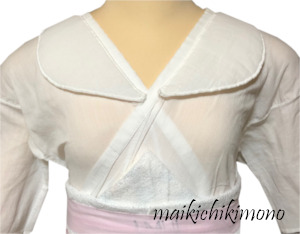 Use pads or absorbent cotton for the dents.
In the photo above, the pads are attached with a double-sided tape.
In the case of self-dressing, it is difficult to put the towel on your shoulder by yourself because it will slip off.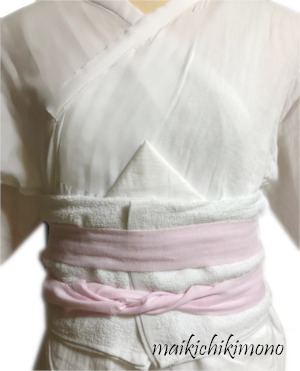 Fold a mini towel into a triangle and put it in the dent of the chest to make it even.
Okay, let's go to Sew haneri on juban!
---